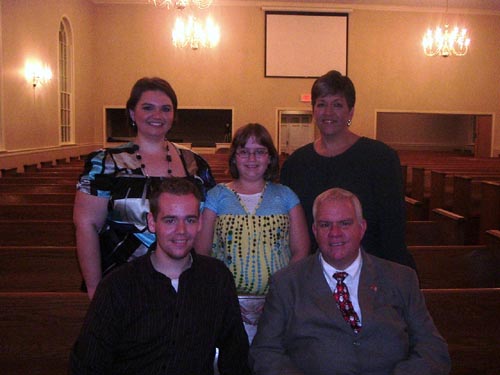 Rev. James Dyar was born on December 23, 1959 in Anderson, S.C., to Edward and Sylvene Dyar. Rev. Dyar was saved and baptized at age 10 at Varennea Baptist Church in Anderson, S.C.
After graduating from McDuffie High School, he went on to Anderson College where he received an Associate of Arts degree. He then went on to Southern Wesleyan University where he received a Bachelor of Arts degree (Business & Accounting). He finished Erskine Theological Seminary in 1985 with a Masters of Divinity degree.
Rev. Dyar married his beautiful wife Teresa Carnes Dyar of Anderson, on March 19, 1983. They have 1 son and 2 daughters. Hannah and Matthew Barkley, Jared and Lori Atkins Dyar, and Bethany Dyar.
Rev. Dyar pastored at Chiquola Mission in Honea Path for 18 months, Friendship Baptist Church in Honea Path for 5 ½ years, Antioch Baptist Church in Lancaster, S.C. for 7 years and Red Hill Baptist Church in Pickens, S.C. for 13 years.
In September 2008, he was called to pastor Earle's Grove Baptist Church by a 93% membership vote. Rev. Dyar and his family now live in Seneca, S.C.
Rev. Dyar has many hobbies but his favorite is spending time with his family and church family.